Now You've Got It — the Exciting Mixtrack 3 DJ controller.
From Numark the world's leading innovator of DJ equipment and technologies, comes the incredible Mixtrack 3 DJ controller, designed with the skilled, professionally-aspiring DJ in mind. It's the latest addition to the Numark family of industry-leading DJ solutions.
This controller offers a whole host of features and performance that sets it way above conventional DJ controllers, yet it offers great bang-for-the-buck and it's a snap to take anywhere.
   
Put Real Power into Your Performance
When action is non-stop, we make sure you're the one in the driver's seat. We give you the horsepower to get it done. Mixtrack 3 will never let you down. We've kept everything you loved about the Mixtrack II, but now there's even more. How's this—we give you 100mm pitch sliders that make it easy to perform even the finest pitch adjustments, so it's easy to keep two cuts in perfect beat sync without any drift. Other people's 60mm pitch sliders can't come close to matching this performance. We make you look and sound great!
No Limits on Your Creativity

Dive into our 16 multi-function backlit performance pads and add loops, launch samples, and control hot cues to your performance. Use the multi-function touch strip for dynamic FX control and track search operation. There are dedicated filter knobs for each channel, to give you just the exact amount of tonal control you need for that perfect sound. If you can think it, Mixtrack 3 will do it.
Jumpstart your inspiration with 6 sample packs from Prime Loops including over 380 premium instrumental loops, drum kits, one-shots, and more. A $200 value.

Remix with the sounds of the world's premier electronic music label. Mixtrack 3 gives you exclusive access to download studio-grade audio stems from the Toolroom Records catalog, allowing you the freedom to layer, tweak and chop today's most relevant sonic textures.
Hot Metal (wheels, that is)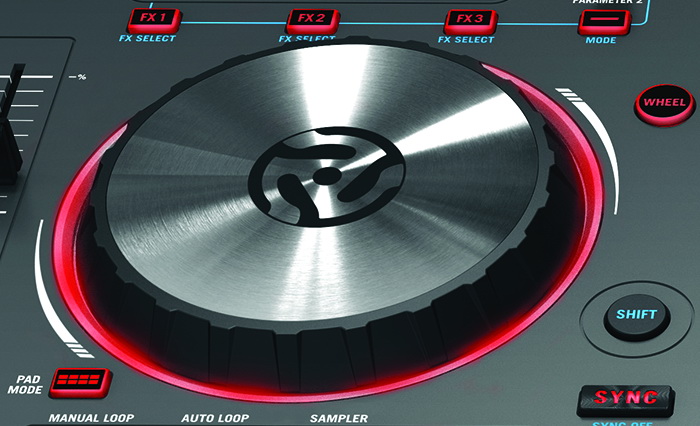 Get precise control over every track and every transition with Mixtrack 3's advanced low-profile rugged metal platters. They are capacitive and dual-zone, giving you the ability to scratch or stop a track simply by touching the top of the platter, while at the same time allowing you to adjust the pitch by manipulating the platter from the side. Heavy-duty metal stands up to the hottest action, night after night.
Virtual DJ Included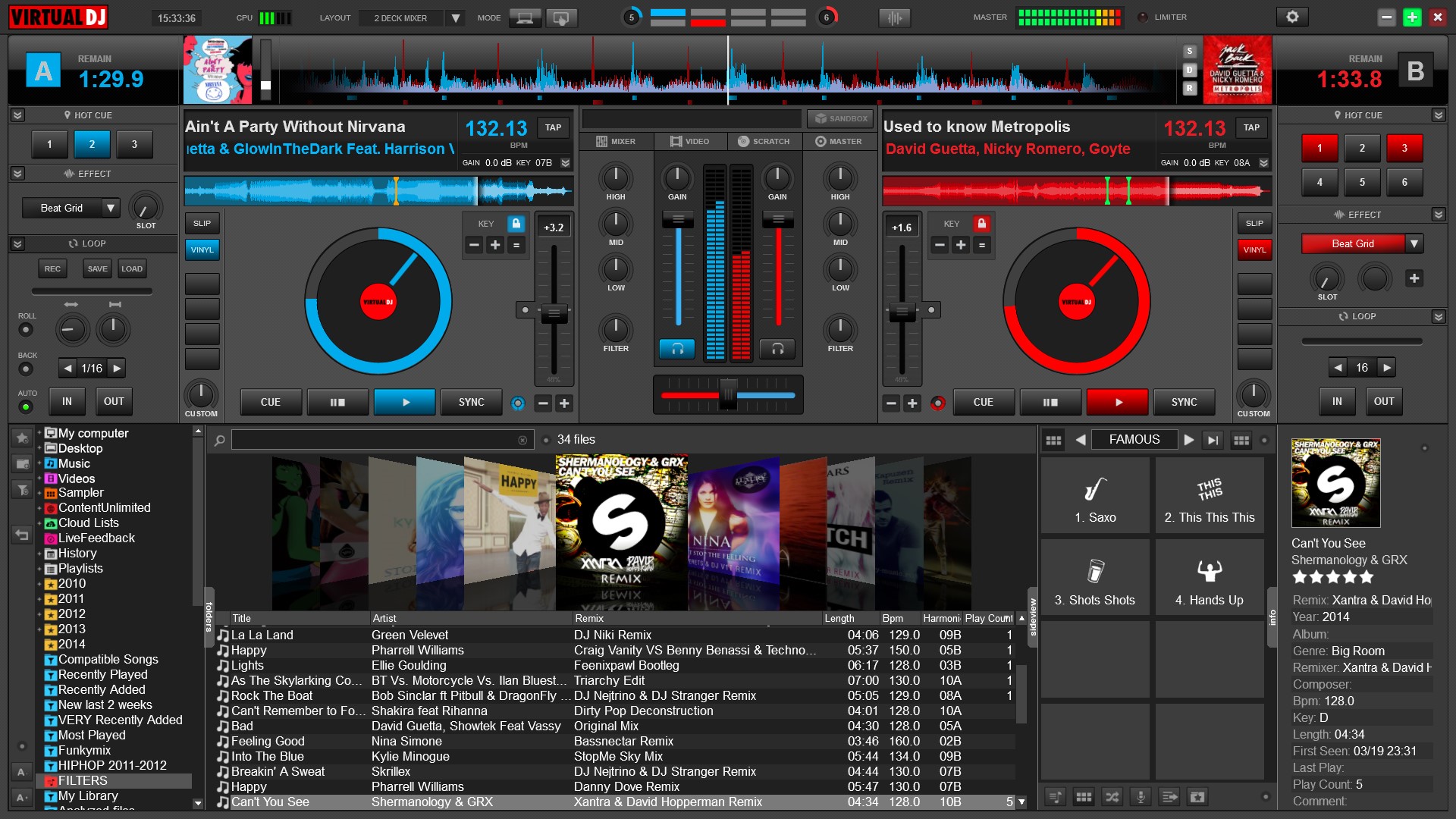 Start mixing right away—with the included Virtual DJ LE software you can create professional-sounding mixes at home or easily upgrade to Virtual DJ Pro for performing live at parties, functions and clubs. Plus, Mixtrack 3 operates via standard MIDI, so it's compatible with virtually any popular DJ software.
The MIXTRACK 3 is a performance-driven design, but with a sharp eye on value. Start mixing today like the pro that you are!
We like to keep things simple, so Faders Music Inc. offers Free Canada-Wide Shipping for ALMOST all orders over $99 (before tax). 

Some larger/heavier items are subject to shipping charges.

Canada is a big place and shipping companies calculate their rates using "dimensional weight" meaning larger items are very expensive to ship - even if they don't weigh very much (i.e. an empty guitar case). Not to mention freight companies are charging ever increasing "fuel surcharges" regardless of the price of fuel. 

If you have any questions about our shipping policies, please contact us prior to placing your order. 
Local customers may choose to pickup their order at the store free of charge during the checkout process (click & collect). Free local delivery to Brandon, MB addresses is also available for orders over $25. 
We want to be completely transparent with our shipping policy, so here is a list of items that we have to charge some shipping on. (these fees usually work out to about 25%-50% of what we actually pay).
Faders Subsidized Flat Shipping Rates (within Canada)
61-76 Note Keyboards : $44 + tax
Keyboard/Piano Stands : $44 + tax
88 Note Pianos : $95 + tax
Electronic Drumsets : $65 + tax
Empty Guitar Case (hardshell) : $44 + tax
Empty Instrument Gigbag (guitar, keyboard) : $30 + tax
Guitars < $350 Value : $44 + tax
Amps 25+ watt : $55 + tax
Guitar or PA Speaker Cabinets : $44 - $95 depending on size
Guitar & Bass Bundles : $55 + tax
If you make a purchase from one of these listed categories and choose "Free Canada-Wide Shipping" in the checkout process, we will email you a secure link to pay the shipping charge after you've made your purchase. It's super fast and super easy. 
Shipping charges on small item orders that total under $99 before tax are generally in the $9.99-$19.99 range depending on their size. You will see the options during the checkout process. If you accidentally choose "Pickup at Store" and need the order shipped to your location, we will contact you before shipping and send a secure payment link for the shipping charge by email. 
Note: Some remote or rural locations may be subject to additional shipping charges. For example, if your delivery address is a PO Box and you order a large or heavy item then we will email you a secure payment link with a subsidized flat rate shipping charge determined by the item(s) ordered and your delivery address.

A brief note about shipping & delivery estimates:

When you place an order with Faders, we always strive to ship within 1 business day (same day whenever possible). In short.. we inspect, pack and get it out the door as fast as humanly possible. Place your order on a Monday - it leaves Tuesday, place your order Friday at 7:30pm CST - it leaves Monday morning etc.
Once your order has left the store it is in the hands of the delivery company. Shipping estimates shown in our checkout process are estimates provided to us from the shipping companies - they are not guaranteed delivery dates as there are many factors which can impact actual delivery times such as: seasonal shipping volumes, extreme weather, staffing/technical/mechanical issues, delivery location (Canada's a big place) and global pandemics (occasionally).
We do everything in our power to get you your gear as fast as possible & we know the shipping companies are working hard to do the same.
If you have any questions, please send us an email info@faders.ca or chat with us here on the website.
 

Who are we?
Faders Music is an independently owned & operated music store located in the middle of the Canadian Prairies - Brandon, MB. We opened our doors on April 12, 2007.
Where are we?
Faders Music Inc.
2412A Victoria Ave.
Brandon, MB
R7B 0M5
(204) 571-0428
What do we do?
Musical Instruments, Music Lessons & Vinyl Records.
Musical Instruments:
At our core we are a music store specializing in guitars, pianos/keys, drums & recording gear. We are a proud dealer for many top brands including: Fender, Ibanez, Orange & Blackstar.
Music Lessons:
A huge part of what makes Faders, Faders.. is our music school. We have 12 instructors on staff that teach all ages and skill levels in guitar, piano, drums and voice. Over the years we have taught hundreds & hundreds of students the joy of learning a musical instrument. Some of our former students have even become teachers at the store!
Vinyl Records:
A few years back we thought it would be cool to add new and used vinyl records to the store. It's been a huge hit! We also recently started bringing in rock band T-Shirts & other "lifestyle" type stuff.
Our goal has always been to be a comfortable place for music lovers to hangout, shop and/or learn how to play.
What else?
We have a full service guitar repair shop.
We offer financing. If you want to slice up your payments on that dream guitar we can help. It's fast and surprisingly easy. You can even apply from the comfort & privacy of your own home right here on the home page of our website.
We are Canada's #1 ToneWood Amp Dealer
We have a pretty cool Reverb Shop where you can sometimes find neat stuff we don't necessarily have listed on our website
High pressure sales? Nonchalant clerks who are half asleep? Not at Faders! At Faders there's never any pressure to buy and we are always happy to answer any questions and help guide you to products you might be interested in.
We ship worldwide. Whether it's through our website or Reverb store we can and do ship all over the world.
Local customers can shop online at faders.ca & pickup in store. Do you like to shop online but still want to support your local shops? Now it's easy to buy online here and select "Local Customer Pickup" during the checkout process. We will prepare your stuff and have it waiting for you.
In 2021 we acquired Ted Good Music (also in Brandon, MB). Ted Good Music offers band instrument rentals & repairs, PA system rentals & a whole lot more!

Looking for even more info about Faders? Drop us an email at questions@faders.ca or reach out to us through Instagram or Facebook @fadersmusic